---
Lots of people are wondering: How To Heal A Broken Heart?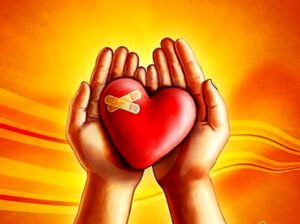 A client recently came to an energy healing class because she felt so empty in her chest and was looking for an answer to loneliness. Something had died and she lost her zest for life; she felt so down trodden and wondered if the next five years would be like the last five years. Would her heart open so she could find love again?   What was her destiny to be?  Same old suffering, longing for love yet unable to open her heart again.
The client wanted more that ever to experience true love, impossible with a blocked heart. She wondered what it would take to love again? The client with the help of an energy healer and a freeing meditation was able to clear her broken heart and start thinking about embracing a new relationship where she could love and be loved.
What are the possible causes of a broken heart?
Someone left you

A lover dumped you and you didn't see it coming
A family member or a close friend died

Someone you liked gossiped about you and hurt your feelings
You had expectations and they weren't fulfilled; it hurts
You weren't invited when a group of your friends got together
You worked so hard for your company, sacrificed so much time and energy, and then you were passed over for the position you had earned
Even past life emotional hurts and mental pain might bleed over into this life
Grief and deep loss take on many shades of emotion.
There are six stages of grief: disowning your feelings, disassociation/detachment, anger, haggling over your feelings, downheartedness, and finally acknowledgment/acceptance of the situation. Most of these emotions do come into play while processing grief, but they can be swapped around or some stages entirely skipped. The bigger picture is that we are all spiritual beings playing a game on Earth. We as Spirit were never born (only our bodies) and we never die – just move on in consciousness when the physical vehicle dies. We're not taught about these immortal principles as a child and we grow up dreading the loss of a loved one.
Where can you turn for help with the pain of a broken heart?
A grief counselor
A clergy
A psychologist
A good friend
A psychic
An energy healer
Or you could take a Reiki class and learn to heal the hurt for yourself and to help others.
If you have been left behind by a parent or a mate who died, or dumped you, more than likely you have a broken heart. It is not fun having an achy breaky broken heart. It is a blocked stuck feeling in the chest. You may run through many relationships one after the other hoping to feel love again, but something is stuck, blocked.
What if a broken heart — filled with all the grief, judgment, remorse, blame, shame and/or loss — could be healed – just like a technician can heal a computer of a huge virus? What if the human emotions could be healed and defragged like a computer? What if a person who releases these blocked emotions can feel whole again and be able to love someone without the fear of being hurt again?
"By sharing this story we might be able to help someone come back to their happy place. In our Reiki Master Training Certification weekend, we have a special release meditation where we take the students on a journey to heal all kinds of emotional trauma." Says Taylore Vance, who is one of the teachers at the Reiki Ranch Energy Training Center, just west of Chehalis, WA. Taylore goes on to explain that a broken heart can be healed in one of these sessions.  The video below is an example of healing that can occur. This Reiki Ranch student was recently one of a class of 17 new Reiki Masters.
Hear her story on this Youtube link below!
How To Heal A Broken Heart