---
What if you are dead broke and you just found a penny on the street; can you actually go from that one penny start to being wealthy? The authors of The Joy of Being Jobless say so, and their performance from almost that broke to the renowned Reiki Ranch in Southwest Washington State proves their methods.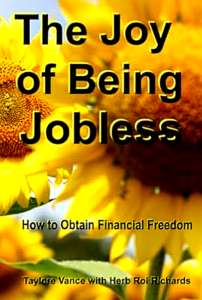 This book is not a rehash of other self-help books but a very simple, easy-to-follow, new approach that gets the wealth ball rolling your way and shows you how to keep it rolling.
Join Taylore Vance and Herb Roi Richards as they share the secrets of their success learned throughout their journey from the humblest beginnings to successful ranch owners living out the wildest of dreams. They fearlessly faced and overcame the threat of retirement and aging as a jobless couple, passionate and vibrant. They are nearly centenarians who have never acknowledged age or aging to be a limitation. Every day, you will find Taylore out managing the chickens and animals on the ranch while keeping up with the landscaping and maintenance of the organic garden, while Roi can be found operating heavy equipment, frolicking on dirt bikes, or hiking the trails Taylore and Roi have constructed and maintained together.
These promoters of the Law of Attraction and fans of Mother Nature and a Higher Power are Reiki Masters who teach others Usui Reiki at their Reiki Ranch in Chehalis, Washington. They have also discovered and teach Laser Reiki which is more advanced while adhering to the principle that simple logic and belief yield better results than blood, sweat, and hard work. The best things in life can come easily, regularly, and abundantly at the perfect time. And so, they do once you understand.
This couple fervently promotes the combination of sensible thinking for oneself, remaining active, following nutritional guidelines of ancestral roots, seeking natural healing methods as an alternative to modern pharmaceutical remedies, and avoiding modern processed foods for the youthful health and longevity they enjoy.
Vance and Richards spill the beans about how they, and anyone, can start with just a penny they found on the street and start affluence steadily finding its way to you. A slight change in your mindset will start the wealth ball rolling your way and you will know how to keep it rolling.
The simplicity of it all is explained inside with proven examples they have each experienced.
This method of starting an ongoing revenue stream and growing it to support your wants and desires is the basis of their success, which they relay many examples of. Their hope is that readers will make small changes in their thinking, so they are able to enjoy their desires and dreams fulfilled as quickly and easily as Taylore and Roi have.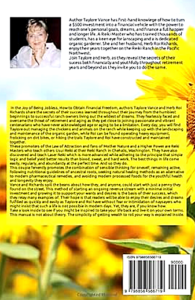 Take a look inside The Joy of Being Jobless: How to Obtain Financial Freedom to see if you might be inspired to take your life back and live it on your own terms, regardless of what others might say, do, or think. Reading The Joy of Being Jobless could be your first big break.
Taylore and Roi's New Book: The Joy of Being Jobless